The Challenger: Golf with Your Friends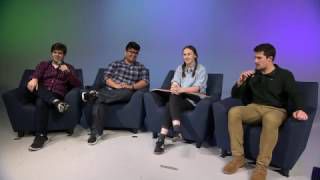 Welcome to the Challenger, the place where there is a new exciting description on youtube every week. This episode features KBVR-FM employees: Donald and Anehelena in a match of Golf with Friends. Join us in the Spring for more games, and likely more fun.
Credits:
Producer- Jared Dukes
Director- Alyssa Liljequist
Hosts-Nick Miller
Max Bettendorf
Guests-Anehelena Goodman-Flood
-Donald Orr
Tech Director- Tyler Rippon
Audio Director-Griffin Thenell
Light Directer- Nolan Bauermeister
Prompter- Kyle van Krieken
Rebeccah
Graphics-Will Kmiecek
Geeves -Garret Taylor
Camera- Rob Jones
David Tran
Mackenzie Bittinger
Quinn Meihoff
Help us caption & translate this video!
http://amara.org/v/4muJ/