The Challenger- Fearful Finale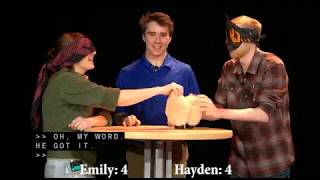 Join us for a fun horror themed finale episode of The Challenger with Oregon State University's Student Multimedia Services!
Host: Cameron Willett
Guests: Emily Wilcox and Hayden Wilcox
Producer: Ashley Peterson-Williams
Director: Griffin Thenell
Technical Director: Garret Gravink
Computer Graphics: Emmy Markham
Clip Operator: Emmy Markham
Audio: Caleb Chandler
Teleprompter: Ashley Peterson-Williams
Floor Director: Kurt Nightingale
Engineer: Garret Gravink
Camera: Ryley Martin, Angelina Macca, Rob Jones
Thanks for watching the Season 5 finale of The Challenger!
Was this article helpful?